Click on the Arrow, to go back to the normal website pages structure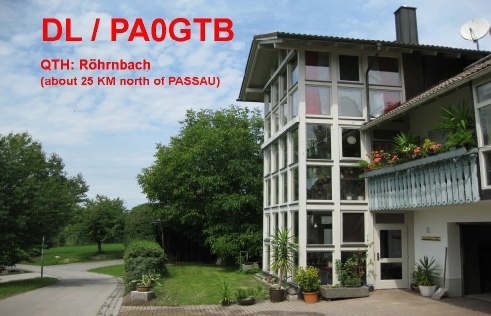 DL/PA0GTB is my Holiday Callsign in Germany
Somethimes more then once a year, we go on Holiday in Germany. In the Region Bayern there is a small village called Rohrnbach. Its a small place in the South-Eastern parts of Germany near the Czech and Austrian Borders, The location is about 25 Km North of Passau. Qth locator is : JN68SS.
Most times i take a small HF Tranceiver (Kenwood TS-50 or the Yaesu FT-897D) with me and several wire antennas to do some experiments i can't do at home anymore. When the conditions are good, i make lots of QSO's
Antennas in use : Yaesu Mobile antennas, FD4, G5RV (mini), Open dipoles e.o.
In the Summertime, when we go there, you can find me on regular bases on the Dutch Holiday Amateur nets on 40 meters.
QSL and SWL reports are very much appreciated. I always reply with a speciale DL/PA0GTB QSL card. Please QSL via the Bureau to PA0GTB